9 Reasons Why Some Never Marry a Nurse according to their Experience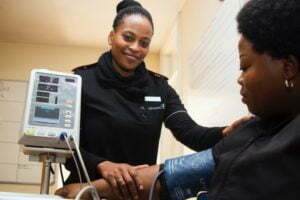 Have you thought of it as to why men of honesty never marry a nurse?
This article is not meant to denigrate any profession but the views and experiences of others are what we share with you.
Experience of Mr. Arthur
Before, that let me share with you the experience of Arthur from Kumasi, Ghana. He narrated his side of experience marrying a nurse at Abuakwa in the Ashanti Region.
I got married to Araba, who is a nurse, and completed Jirapa Nursing training college from the Upper West Region of the Republic of Ghana.
Just after 8 months of knowing Araba whose parents are also from Kumasi, Abuakwa as mine quickly tied the nod.
As days passes the love we both had for each other was indeed great so I was able to lobby for the job for her at Atwima Maakro Hospital.  The person who helped me took an amount of Ghc7000 as his lobbying fee to see the big men responsible for that during his time.
For us to have secured finances, I got her a job. My salary wasn't enough to take care of the family so she started supporting me like time pass by.
I was very happy my wife is working and can support me if I need financial support. After her first year, I started smelling pepper from her actions. I taught that was due to her pregnancy because most ladies feel so when they are pregnant, as a friend told me.
I did not think negatively against somebody I love most. After her childbirth things worsened even before her delivery.
Read 10 Signs you Should Never Marry him
Can you imagine that I bought a graphic for someone to be reading? I will tell you never marry a nurse or do it at your own risk.
Arab my wife was dating the medical doctor she works with at her unit. How did I know? I went there disguised so as to be able to get a close friend who works with her at the emergency unit.
I did not reveal to her Araba is my wife or even related to me. I heard was indecorous statements through the visit. She said, "some of the maize is meant for the fowl's consumption".
What, what do you mean? She smiled, "to be honest, some of the nurses here are food to the doctors". The lady told me to ever know Arab's husband.
Immediately I heard this I nearly fainted. But as a man, I held on as if nothing has happened. After all, I did for this girl, she paid me pepper in return for the fried fish I offered her.
The sad day of my life and what caused our divorce was the day she told me she had a night shift. That was when my boy turned 2 years. She left home early and something triggered me to trace her since I suspected her actions and certain calls she made secretly.
She was moving out and said, "babe am leaving to work". I responded silently pretended I was asleep in the hall. By then my kid sister came in to ask for money to pay her fees.
Aaron, my son I thought, with her and also took off quickly. I could see her car far away and I managed to get close. She was on phone so she didn't even realize someone was following her.
She turned to a nearby hotel called Wadoma Royale Hotel, where we had our one-week honeymoon. I stopped somewhere to monitor all that will happen.
To my glance, another car with blue color which I know to be the doctor also entered the garage. Quickly, I entered there too when they all left their cars and entered the hotel room.
To cut long story short, I caught her with the doctor having affair. After that, I quickly went in for divorce and ordered for DNA test. The result showed I wasn't the father to Aaron. I will tell you like a young man reading this never marry a nurse to be a victim.
This article will enlighten and open your eyes to so many things. I have had several nurses who are complaining about why men off late fail to approach them not to talk about marrying them.
Read: 10 Great Signs the No Contact Rule Is Working Perfectly
Below includes some of the experience reasons you should never marry a nurse
1. They are materialistic
To get an honest man to come by is not easy. Most men failed to marry a nurse because of their high appetite for material gains.  Men are of the view that nurses like material things. Their wants for material things are unlimited.
2. Low Respect for Others
Honest men snob nurses because they are said to be disrespectful. They think they are educated and are of high class so they don't care whether you are an elderly person or of their level.  Some don't care who you are and your position. Never marry a nurse and also go through my experience
3. Nurses don't have time
Honest men never marry a nurse because nurses don't have time to be with their men. Their work is an emerging profession. Their service is needed at any time and any day. The night is the time they are supposed to be with their husbands but here is the case they are spending it at work.
4. Nurses are money-minded
If you don't have money, forget it. I remember one nurse told my friend that, will she eat stones if she marries a broke guy. Like I said before, their wants are insatiable. They are always in need of something. Any new dress or phone that will come up, they want to have one.
5. They are not submissive
Honest never marry a nurse because they are not submissive. They are proud. They do want to submit themselves before their men.
6. Their Attitude Piss Men Off
Some nurses' attitudes piss honest men off from marrying them.
The behavior and manner in which they carry themselves make men run away from them. Men today don't care much about beauty but your character. So if you are a nurse and you want an honest man to marry you, begin to check your attitude.
7. Can't keep home
Nursing is an emerging profession. Yes, it's unlike any other. They can be called to perform some tasks at the hospital. This makes them arrive home late and by the time they are home, they are exhausted. They can't do any house chores. This makes honest men run away from them.
8. Nurses are impatient
One of the major reasons why honest men do want to marry a nurse is because nurses are impatient. They always want things to happen as quickly as possible. When they need something, they ensure it's available within a few hours or a day.
9. They maltreat their men
I hope you have visited a hospital before, how do some of the nurses treat patients? It pains me anytime I see a patient being treated in pain.
This should signal something to you, that when you get married to such a person and you are sick. How will she treat you? This has made some honest men advise others to never marry a nurse.
Conclusion
We have good nurses who carry all the qualities a man would need. They are like a scarce commodity. Take your time before you also become an advisor to others to never marry a nurse after your experience.
Your comments are warmly welcome.