10 Secret Things That Make Women Happy In Relationship
There have been many things that make women happy in a relationship, and we are going to decode them all for you today. It is not difficult to please a woman who loves you well.
As a man, you have the responsibility to make her smile and love the relationship she finds herself in.
It can be a bit challenging to absolutely understand the emotions of a woman, you have to try different strategies to make her happy. Let us go deep into some of the things that make women happy in their relationships.
1. Complimenting her can make her happy
There are many ways women try to look good and nice through appearance etc. complimenting your woman when she least expects it could flutter her heart.
Never be ashamed or too busy complimenting your woman. By so doing, she will love you more and always be happy.
Contents [ Show… ]
Find various ways of complimenting her to spice up your relationship. Find nice ways to appreciate her in terms of appearance or activities.
This can be done when she is about to go out, concerning her dress and probably her attitude.
2. Have time spent with her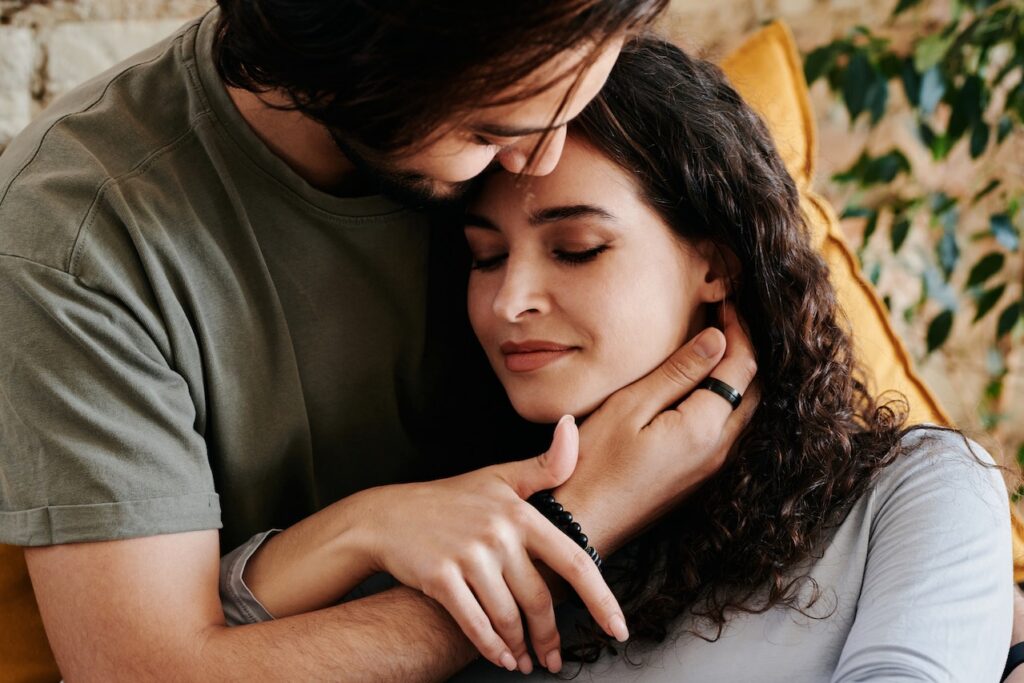 Most women find happiness when you spend time with them. Giving a balanced time with your woman is said to be some of the things that make women happy in a relationship.
But be cautioned and don't let it go extreme making her feel your social life depends on her.
At the very least, making a small effort or devoting time to her from your busy schedule is essential to making her happy in a relationship.
3. Encourage and be supportive
Encouraging your woman and being supportive are also other ways of making a woman happy in a relationship.
Read Content: Ways t get a girl to like you over text
What do you get for your partner? Show it through your actions, not just your words. As a man, study her feelings rather than simply saying them.
Becoming her cheerleader when she plans to do things .make her feel driven and supportive in doing the things she likes and loves which makes her feel motivated.
In this case, she becomes a happy person in the relationship. Identify her shortcomings and offer her support.
4. Gifting your partner/woman
Gifting or surprising your woman with gifts intermittently makes her happy in a relationship. It doesn't really mean something expensive.
Ladies have the simplest form of happiness you can ever imagine. However, something cute and manageable is acceptable. Women become happy when you gift them sincerely.
Surprise her at the office or home with something she never expects from you. Don't wait for the occasion before sending her flowers.
5. Telling her you Love her
This is one of the simplest and easiest things that make women happy and loved in a relationship. Express your love for her and your gratitude for being able to call her your wife. Demonstrate to her how much you value her presence.
This can be done via phone calls, messages, face-to-face meetings, etc. These simple gestures make a woman happy and, thus, make her feel loved and special. It works like magic!
Wait for the right moment to tell her that you love her. You can write romantic words on a piece of paper and hand them over to her. You will see her smile after reading.
6. Appreciating your woman for the little things she does
For all the little efforts she makes to make you feel happy, you should also appreciate her efforts.  Appreciating it makes her feel happy in the relationship.
Her cooking and organizational style in the house and outside frustrate me at times. Appreciate with a word of you being thankfulness etc. these are simple magic things that make women happy in relationship.
7. Respect her
Respecting a lady is also one of the important things in making her feel happy in a relationship.
Women look up to men who know how to treat their women. Respect her views and opinions, and involve her in decision-making by listening to her.
Value her time and decisions. By so doing, she becomes happy in the relationship. Don't walk over her, even if she was showing you something awful.
8. Understand what makes her happy
When you live with someone for some time, you will have to identify what makes them happy and do it well.
Communicate with your woman about what she needs and wants. It's always hard to tell what your woman wants or needs in a relationship unless you ask her. Checking in with your woman will not only show her you care but will also make it easier to understand her needs.
9. Trying new experiences together
Doing things differently from those you already know about is another fun way of making your woman happy in a relationship.
Getting out of your comfort zones to try something new will create a strong bond and memories together, which will keep the spark in the relationship and make her feel happy.
You can schedule some parties with her at different places of comfort. Spend a night with her outside your bedroom. Create an environment that will make her remember you all the time.
If you practice these, I assure you that her happiness with you is guaranteed. Don't let her feel bored, let her see that the world is sweet when you are with the right partner.
10. Spend Time with her
If you really want things that make women happy in dating, then it is about spending quality time with her. It is one of the most important pillars of every relationship. No matter how busy your work is, try to make time for her happiness.